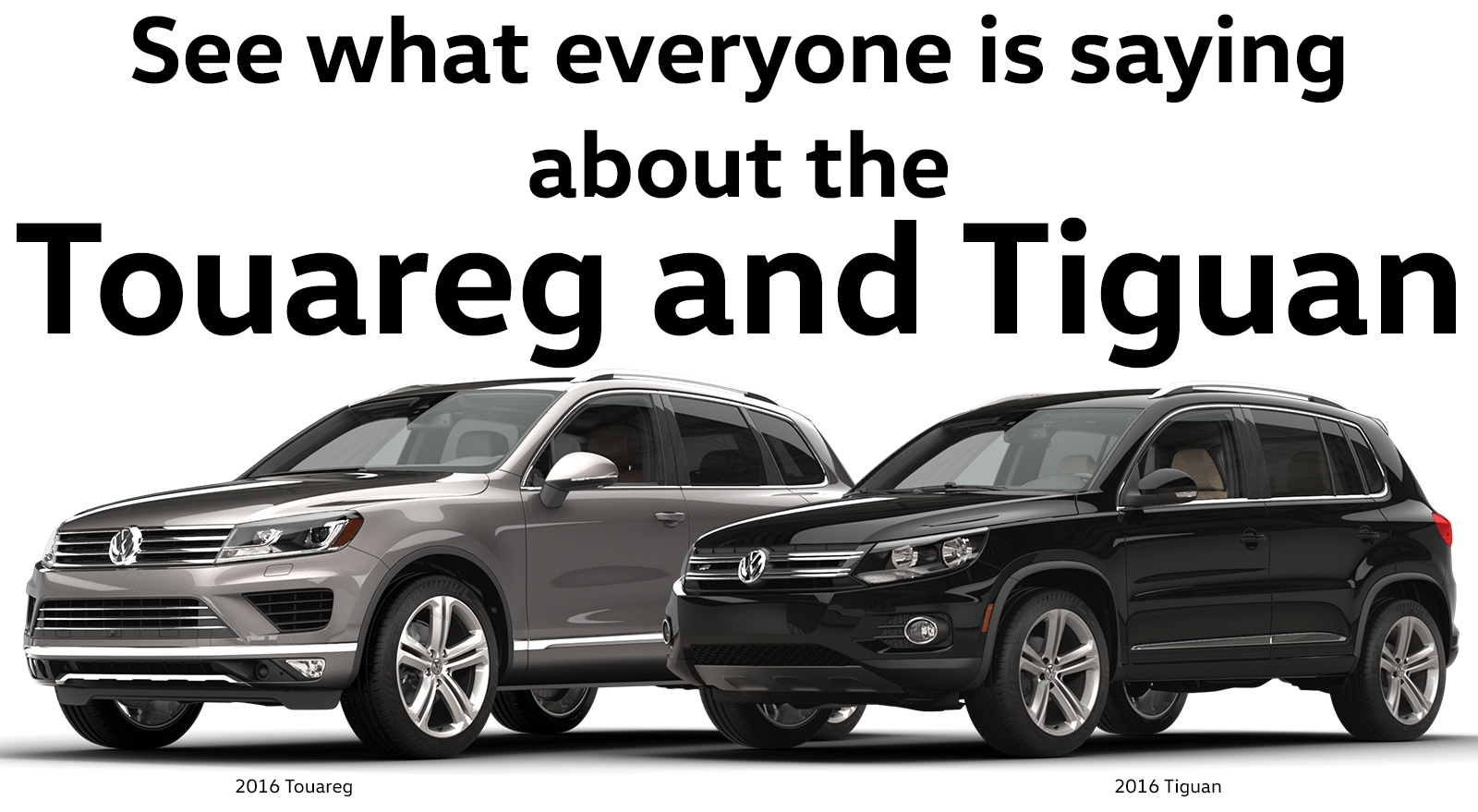 "The 2016 Volkswagen Tiguan delivers on most of the important small-crossover promises... The Tiguan doesn't hide outstanding performance behind its homely exterior. Although the specs sound promising-a 200-horsepower turbocharged inline-4, optional all-wheel drive-this is a vehicle tuned for family duty, not for the precision expected from a Golf GTI. It's more nimble and responsive than a Honda CR-V or Toyota RAV4, for sure, but the goods simply aren't here to satisfy driving enthusiasts. The Tiguan can tow up to 2,200 pounds, which is enough to haul jet-skis or ATVs. All-wheel-drive versions make good picks for those in snowy climates, and they only require a small fuel-economy sacrifice. . . The Tiguan also delivers a no-nonsense, versatile, and comfortable interior package. The front seats feel sporty yet supportive, with good comfort and an excellent driving position, while the second-row seats slide and tilt, leaving ample space for adults and the ability to increase cargo space when no one is in back."
-The Car Connection
"The Volkswagen lies on a plane between the mainstream and entry-luxury offerings, thanks to its fantastic powertrain, engaging dynamics, and refined interior. For some, it is just the right blend of two different beasts."
-Automobile Magazine (2014)
"While it isn't cheap... neither are most of the players in this quasi-luxury zone. What's more, I think the Touareg's subtle combination of driver involvement and practicality give it a tiny edge on other, similar vehicles - at least where enthusiasts are concerned."
-Autoblog (2015)
"If you're looking for a substantial midsize SUV that can deliver luxury, capability and power, the 2016 VW Touareg tops a very short list. Sure, its nearly $45,000 starting price puts it close to BMW and Lexus territory, but this is one VW worth the extra cost."
-Kelley Blue Book
"Unlike most other Volkswagen models, which have become less expensive and less sophisticated in order to gain mass-market appeal, the Touareg midsize SUV is a genuine luxury vehicle. Based on the same platform as the Porsche Cayenne, the Touareg isn't cheap but offers buyers an impressive array of attributes: a comfortable and sumptuous and interior, excellent towing abilities and good fuel economy, especially with the optional diesel hybrid powertrains."
-Left Lane News