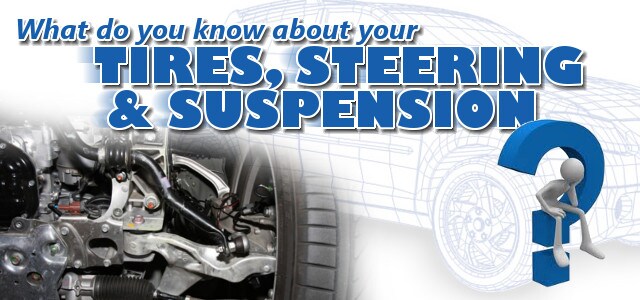 STEERING & SUSPENSION

One of the most essential systems to the drivability and enjoyment of a car is its steering and suspension system. This is collection of springs, shocks, struts, bearings, rods, and structural members making up the complex network under a vehicle that, when all is working as it should, will provide your vehicle a smooth, stable ride. When it comes to common road abuse, like potholes, washboards on gravel roads, and the occasional curb bump, your steering and suspension system is what is designed to absorb the impact. But after a while, it may need adjustment or part replacement. Does your car pull to one side? You could have a problem with uneven tire pressure or wear, or, your alignment might be bad.

Does your steering wheel shimmy or shake? This might indicate a problem with a wheel being out of balance, or worn tie rods or ball joints. Perhaps your car seems to bounce over bumps too much, or your car is difficult to steer correctly? This could mean worn shocks or struts, or damaged springs, low power steering fluid, or a bad steering rack or pump. Don't wait to get it fixed, the longer it goes, the more damage it can cause, and will become increasingly unsafe.

TIRES

Few things matter to vehicle drivability more than the good condition of tires. Both pressure and condition are vital. Low pressure can cause a blowout and will ruin your gas mileage. High pressure can cause very uneven tire wear, and short tire life. Check the sticker on your drivers' side door jam and verify the pressure is correct. Make sure you are getting your tires rotated. Not rotating tires every 6,000-7,500 miles or so may void warranties.

Have questions about tires? Just give us a call! Have a Question? Call our Service Center today! (888) 471-3968

Or fill out a form on the right!