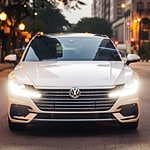 Design innovation doesn't get higher or more multifaceted than it does in the makeup of the Volkswagen Arteon. Handsome and agile, this flagship sedan looks good, handles like a champ and boasts a shopping list of standout design features. Our Volkswagen Billings team selected the following for your info.
Hands-Free Trunk Operation
The Volkswagen Arteon's hatchback body style emphasizes both passenger and cargo space. In fact, the trunk automatically opens when you kick your foot under the rear bumper and hold it there momentarily. The same gesture causes the Volkswagen Arteon's trunk lid to close and lock when you're done. It makes accessing the trunk a cinch even when you have arms full of bags and gear.
Adaptive Front-Lighting System
Have you ever wanted your ride to shine its headlights around bends in dark, twisty roads? The Volkswagen Arteon makes it possible. Its highly efficient, bright, long-lasting LED headlamps pivot in their assemblies in the same direction as the turning steering wheel. The lamps pivot up to 15 degrees, emitting wide, deep pools of light around corners, onto the road and onto the surrounding landscape.