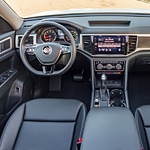 If you have pets, you may take them in your vehicle for occasional drives around Billings. One of the side effects of this practice is that you may wind up with hair stuck to your interior. Here are some tips for controlling pet hair in your car.
One of the best ways to control pet hair is to take your pet for a ride only when needed, such as for visits to the vet or groomer. Cutting down on the amount of time your pet spends in your car will cut down on the hair.
Another way to limit pet hair in your vehicle is to keep your dog or cat in a carrier. Keeping them in an enclosed space will reduce the opportunities for their hair to get on seats and floors. If your car or truck has a pet hair problem, come get it thoroughly cleaned and detailed at Volkswagen Billings.