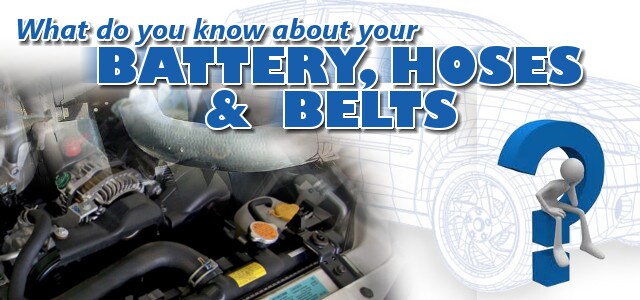 HOSES & BELTS

Hoses and Belts are often plastic or rubber, and these materials naturally deteriorate with age. Temperature extremes (which we have a lot of in Montana) also factor in to accelerated aging. Belts and Hoses are vital to the reliable operation of your car's systems. They tie all of the electrical (headlights and brake lights, wipers, turn signals, etc.), and heating and cooling systems into your engine. If belts are loose or excessively cracked or worn, or if hoses are soft or fractured, it may be time for a replacement.

BATTERY

Batteries don't like the cold. And Montana has plenty of cold winter weather, which strains the electrical system and can shorten the life of even the best batteries. If there's corrosion or leakage, or if the battery is more than two years old, it's probably time for a new one. A dead battery will leave you stranded!

TIMING BELT

What's a Timing Belt? The Timing Belt is a metal chain or reinforced rubber belt that drives the camshaft of the engine, and the good condition of the Timing Belt ensures that your engine runs smoothly. Timing belt replacement is crucial to the life of your engine, so be sure to replace your belt at the required intervals for your car. If a worn belt fails, everything from bent valves to total engine destruction are possible, so replacing the Timing Belt is to be considered 'cheap insurance' to keep your car running like new.

Have a Question? Call our Service Center today! (888) 471-3968

Or click fill out the form on the right!